July 2019
| Mon | Tue | Wed | Thu | Fri | Sat | Sun |
| --- | --- | --- | --- | --- | --- | --- |
| 1 | 2 | 3 | 4 | 5 | 6 | 7 |
| 8 | 9 | 10 | 11 | 12 | 13 | 14 |
| 15 | 16 | 17 | 18 | 19 | 20 | 21 |
| 22 | 23 | 24 | 25 | 26 | 27 | 28 |
| 29 | 30 | 31 | | | | |
Calendar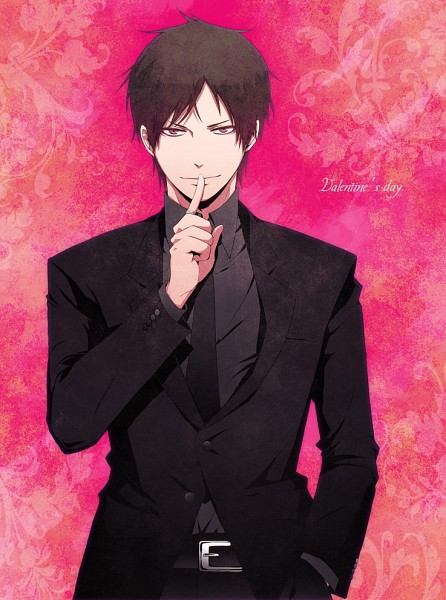 General Information
Name:
Blake Cleave
Alias:
None
Age:
28
Gender/Sex:
Male/male
Sexuality:
Demisexual
Height:
6'4"/1.93m
Weight:
143lbs/64.86kg
Behavioral Information
Alignment:
Good/Neutral ;; Lawful ;; Neutral
Personality:
In a word, Blake is professional. Trained from an early age to be a servant, he knows to hold his tongue and keep his opinions to himself, while also knowing that sometimes he must take action against someone's wishes for their well being. He never speaks back to authority, but is always willing to stand against indigence towards himself or Anaya. In short, he is eager to serve, yet willing to hold his ground.
Likes:
Anything to do with the Medieval/Renaissance periods, Classical music, punctuality
Dislikes:
Discourteous individuals, pop/rock music and dubstep, cats
Background
The Cleave family has been employed as servants to the Blade family for the past four generations, and Blake is no exception. Raised to be a servant and determined to bring pride to his family name and trade, Blake trained religiously to master etiquette, cooking, and all other servant's duties. He and his parents served initially Patricia Blade, and then her new husband when she got married; her husband was a crass man who clearly only married her for her wealth. When their daughter, Anaya was born, Blake's powers initially manifested, and the two families moved to Ruby City. Blake grew very attached to and protective of Anaya, knowing it would be his duty to protect and serve her for the remainder of his life, so when he discovered her father was abusing her, he immediately informed Patricia, who divorced him almost on the spot. From that point on, Blake became very protective of Anaya, and eagerly helped her to cultivate her powers when they manifested.
Superhuman Information
Power Holder?:
Yes.
Transform: Falchion:
Blake is able to transform into a falchion sword, approximately 37" in length. The process of transforming into a sword or back into a human takes approximately 30 seconds (one full post). While in this form, he is unable to move on his own, but is able to communicate telepathically with whoever is wielding him. The sword is highly durable, able to collide with steel without taking significant damage and cut through leather with ease. Any damage taken while in sword form will transfer into injuries when he transforms back, and he still feels pain while in sword form.
Last edited by Cognition on Fri Dec 21, 2018 12:36 am; edited 1 time in total



Posts

: 32


Join date

: 2018-11-10



Another rather unorthodox character from Jolly.
First off it looks like you didn't really finish your thought in the third sentence of the Background, so if you could fix that.  Otherwise the Background is fine.  

Power Breakdown

Pros:
Transformation: Sword (Major)
Limited Telepathy (Minor)
Cutting Capability: Leather (Minor)

Con:
Transformation Time: 1 Post, Scaling (Major)
Retrains damage from while transformed (Minor)
Feels pain while transformed (Minor)


So the power is basically balanced.  However that is in part due to circumstance as the latter two cons would not normally apply to regular transformation abilities.  But also as a result of the specific transformation its not as versatile as a typical transformation.  In that way it kinda/sorta balances out to this.  So just make the fix to the Background and you should be good.



Posts

: 303


Join date

: 2016-07-05






Posts

: 32


Join date

: 2018-11-10



Alright, much easier to read now.
Approved



Posts

: 303


Join date

: 2016-07-05




Similar topics
---
Permissions in this forum:
You
cannot
reply to topics in this forum