July 2019
| Mon | Tue | Wed | Thu | Fri | Sat | Sun |
| --- | --- | --- | --- | --- | --- | --- |
| 1 | 2 | 3 | 4 | 5 | 6 | 7 |
| 8 | 9 | 10 | 11 | 12 | 13 | 14 |
| 15 | 16 | 17 | 18 | 19 | 20 | 21 |
| 22 | 23 | 24 | 25 | 26 | 27 | 28 |
| 29 | 30 | 31 | | | | |
Calendar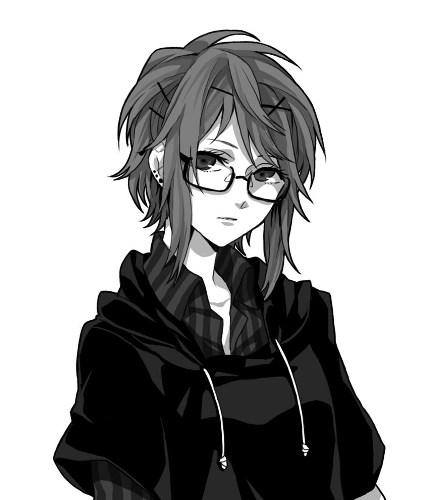 General Information
Name:
Dolores Agony
Alias:
N/A (yet)
Age:
15
Gender/Sex:
Female
Sexuality:
Heterosexual
Height:
5'3", 1.6m
Weight:
111lb, 50.3kg
Behavioral Information
Alignment:
Good, Neutral, Nice/Neutral
Personality:
Dolores is relatively shy and reserved, but is still very friendly and has a strong sense of right and wrong. She hates to see people suffering needlessly and despite being socially awkward will always try to step in to help someone in need. That said, she prefers to be alone, with the exception of the few she deems her friends, often isolating herself. Additionally, while she is a generally good person, she does have her vices and addictions, and is not above petty revenge.
Likes:
Music, pain meds, anime
Dislikes:
Narcissists, people who pity her, history class
Background
Dolores was always a quiet and reserved girl, more often spending her free time by herself than socializing with other kids when she was younger. Her home life was normal, if a bit cushioned, as her parents were well off and she was an only child. She was a good student in school, even if she did struggle with social studies and history, but overall she was a good kid. When her powers manifested, however, her life took a significant turn. She had been given what she heard her parent's refer to as a "sadist's power", and was determined to prove them wrong. However, through the use of her powers, she developed a need, followed by a dependency and then addiction to pain medications, namely oxycodone, morphine, and vicaten.
Superhuman Information
Power Holder?:
Yes
Pain Transference:
Dolores is able to transfer pain from another human being to herself, and from herself to other human beings. She cannot transfer pain directly from one person to another; if she wishes to inflict pain that way, she must first take it into herself. As a result, she has double the pain tolerance of a normal human. The sensation of the pain is doubled when taken from another person into herself, and halved when taken from herself to another person (this evens out, so if she returns the taken pain to the original person they get no more or less than when it started). This power does not heal injuries, only removes the pain, and likewise does not inflict injuries, only creates the sensation of pain. To activate this power, she must maintain physical contact with the target for a minimum of seven seconds, reduced to four if direct skin-on-skin contact is achieved.
Last edited by JollyLabyrinth on Sun May 06, 2018 9:04 am; edited 2 times in total



Posts

: 463


Join date

: 2016-07-15



Power Breakdown
Pros
Remove Pain Major
Bestow Pain Major
Doubled Pain Tolerance Major
Ranged Major

Cons
Suffers Double Pain Absorbed - Major (would be a pro as well if not for...)
Halves Pain Bestowed - Major
Requires Line of Sight - Minor

Verdict

Needs another major flaw and another minor flaw to make up for a very strong baseline power otherwise. My recommendation is to kill two birds with one stone, and make it require a prolonged touch (like a grapple) instead, removing a major benefit, and converting a minor flaw into a major flaw. Alternatively, you could instead of requiring prolonged contact, require skin-to-skin contact in order to make it relatively immediate. Effectively the same deal.

If you absolutely must keep it ranged, I'd say requiring Eye Contact to convert Eyeshot to a Major Flaw, and removing the enhanced pain tolerance, which, while conveniently making your flaws manageable and thematically respectable, is sort of making a good power perhaps too good. Plus it'd be a good early Skill Point to take.

I see the pain tolerance being more necessitated build-wise if you were an early-game close support revenge tank (especially with required grapples or skin contact) rather than a back-line field controller revenge cannon (who can just look at people and give or take pain).

That said, it's a good power concept.

Rest of the character: Ya put more effort into describing their power than you did their personality or history. No complaints, just thought it was a funny note. It all checks out. Make sure you're getting those pills legally though, Power Holding junkies get harsher sentences.
Admin




Posts

: 107


Join date

: 2016-06-25



Updated the power so it requires physical contact. Apologies for not going too in depth with her personality and history, I'm pretty rusty with character creation. I intend to improve with future characters.



Posts

: 463


Join date

: 2016-07-15



Alright. This basically checks out I guess.
Remember that all amounts increase every skill point, even bad ones, but you can buy off such amounts with Skill Points. PM me if you have any questions on that.
Approved
Admin




Posts

: 107


Join date

: 2016-06-25




Similar topics
---
Permissions in this forum:
You
cannot
reply to topics in this forum