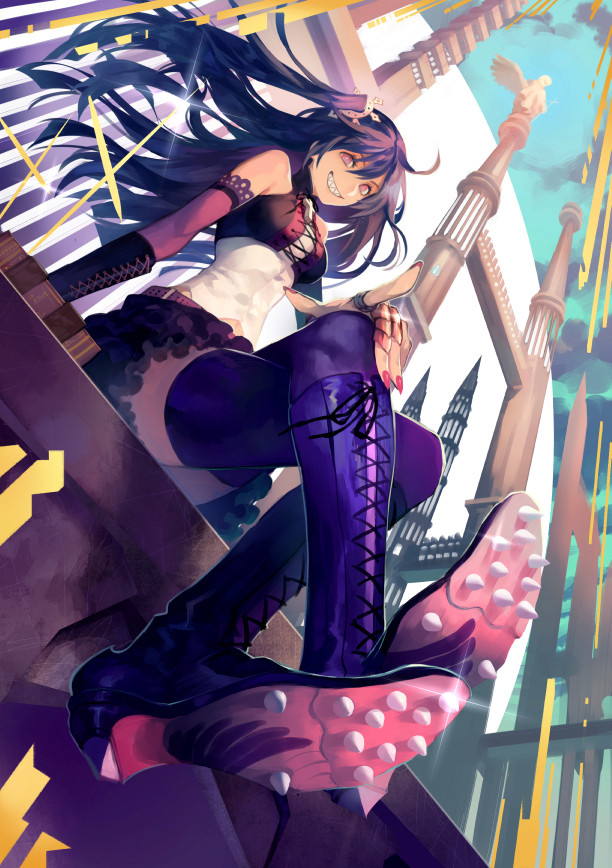 General Information
Name:
Wendi Gore
Alias:
Sweet Tooth
Age:
28
Gender/Sex:
Female
Sexuality:
Asexual
Height:
5'10"/177.8 cm
Weight:
153 lbs/69.4 kg
Behavioral Information
Alignment:
Neutral ;; Evil ;; Nice
Personality:
Wendi can typically be described as a bit of a ditz in that her common sense skills are close to none.  She has a strange and enigmatic understanding of the world around her and behaves almost as if it were all one big dream.  Most of the time she has quite a cheerful personality that is easy to come to like.  However, there are certain instances where that cheerful vibe will out of nowhere switch to something almost sociopathic.  Most of the time it is subtle, and rarely appears when she is at work.  However, if one were to pay close enough attention, they could tell there was something that just wasn't quite right going on in Wendi's head.  Wendi has matured quite a bit in her time at the restaurant, physically and mentally, but she still maintains the same air as when she was still back at the orphanage.  
Likes:
Candy and other sweets, People who feed her, Her job at the fast food restaurant
Dislikes:
Big/Confusing Words, People who lie to her, Pizza
Background
Wendi never knew her parents having lived all her young life in an orphanage located in the backwater area Ruby Central.  She never knew where her parents came from, who they were, where they were now, or why they abandoned her at the slummy orphanage.  The owner of the orphanage was a bitter man, having quite a poor life himself and been widowed a year prior to Wendi's arrival, and was only able to provide the bare minimum for those under his care.  In his depression, the caretaker would sometimes go on fits of rage, taking his frustration out on the children.  In particular, the main focus of his rage was most often directed at Wendi.  
Wendi had always had trouble understanding certain things, particularly things most others would find common sense.  Most of the time this would just come off as ditzy, but it was a bit different in her case.  She always gave off this eerie feeling derived from a mix of innocence and borderline sociopathy.  This was the main cause of her never getting chosen for adoption.  All of this made the caretaker very uneasy about Wendi and drove her to be the primary target of his outbursts.  It all built up to one particular night when she was fourteen.  The caretaker was in another one of his fits but it was worse than normal.  Wendi was used to beatings but not like this.  It was to the point where she felt she was going to die, so she retaliated.  With all her strength, she pushed the caretaker away from her, sending him sprawling and knocking over the table.  Then she ran; out the door, down the street, farther and farther until she had long since gotten herself lost.  
Wendi went many days without any food and barely any water.  In desperation she searched for anything she could find to eat.  She happened upon a dead and decaying rat and without hesitation sunk her teeth into its stomach.  It was exquisite.  Much more flavorful than anything she had eaten at the orphanage.  What she didn't notice, was during her time with no food, her front teeth had changed shape, growing much more sharp and dense.  She finished the rat, leaving nothing but a smear of blood over her mouth.  She would no longer need to worry about starving, but she needed something to help sustain herself.  With a rumbling stomach, she ventured off in a search to find a job, and maybe another rat or two.  
Wendi eventually wandered into the outskirts of the Alexandrite Shopping District and happened upon a small fast food restaurant called Eddy's Eats.  The place wasn't exactly what one would call a fine establishment.  She entered the restaurant in tattered rags for cloths and asked for a job.  The restaurant owner, Eddy, followed by his wife Shawna came to the front to witness the sorry sight before them.  Shawna, feeling sorry for Wendi, convinced her husband to give her a chance.  Eventually a deal was worked out, and Wendi was permitted to work there and live with them while playing rent.  As a worker, she would receive discounts on food bought there as well.  
This proved more beneficial to the little restaurant, especially as Wendi grew older.  She grew into a beautiful young woman and attracted much attention with her enthusiasm and ditzy tendencies.  She quickly became somewhat of a mascot and was often doted on by customers, sometimes bringing her treats.  She additionally was taught basic self-defense by some of the regulars.  This persisted for years up to the present day, while she currently lives in an apartment near the restaurant.  From all of her snacking and her specific taste for sweet treats, she has affectionately been given the nickname "Sweet Tooth".
Superhuman Information
Power Holder?:
Yes
Unending Hunger:
Wendi has an extremely powerful digestive system and is able to safely ingest any form of matter.  Poisons, acids, bases or other harmful substances have their effects reduced by half when ingested, but she is not immune from transmissions such as through skin or bloodstream.  Wendi's teeth are also much stronger than normal, being able to bite through bone as if it were bread.  Things resting in her stomach are often broken down so quickly that it normally only takes a few seconds to completely dissolve material equivalent to that of a bowling ball.  Her hyper fast metabolism also makes it so Wendi has to almost constantly be eating or risk severe side effects.  If Wendi does not eat something at least every third post her physical power is reduced by a quarter for each continuous post until physical power reaches zero and she faints.



Posts

: 31


Join date

: 2016-07-22



Power Breakdown!!

Unending Hunger
Pros
Can bite through tough materials (Up to bone-hardness) (Major)
Half-Effect from Consumed Toxins (Minor)
Can Eat Anything they can Cram Into their Face Without Harm (1 Minute to Digest A Bowling Ball of Matter) (Minor)

Cons
Must Eat Constantly (Major)
Power Debuffs Her Into Unconsciousness If She Doesn't (Major)

I'll call the power pretty much squared in this circumstance.

Now I must inform you of the "older start does not mean better start" ruling, where even though your character is 28, they will not begin the game with more experience, points, or knowledge in relation to their power.

If you are alright with this, do you want this character placed in the Heroes or Villains section? I ask because there isn't anything particularly malevolent about the character herself other than her evil alignment. Nothing in her past colors her sour to a badge, nothing in her personality colors her evil to the morally just. She just needs to eat.
Admin




Posts

: 86


Join date

: 2016-06-25



Yeah, I'm perfectly alright with her not having a better start because of her age.  I just felt like the site needed a bit older of a character.  (Even if it isn't that much older)

I want her to be placed in the Villains section.  I tried to hint a little bit in her personality and background, but she ended up seeming more like a good girl anyway because I made her more innocent.  However, I have specific plans for her in the future.~



Posts

: 31


Join date

: 2016-07-22



Alright then, this character is...
APPROVED
Admin




Posts

: 86


Join date

: 2016-06-25



---
Permissions in this forum:
You
cannot
reply to topics in this forum