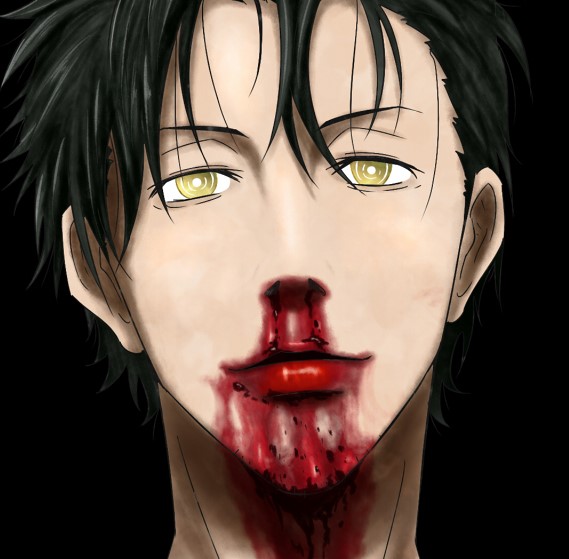 General Information
Name:
Sinew Lovecraft
Alias:
The Flesh Crafter
Age:
21
Gender/Sex:
Male
Sexuality:
Asexual
Height:
5''2'/1.57m
Weight:
128lb/58.06kg
Behavioral Information
Alignment:
Evil/Chaotic/Neutral or Mean
Personality:
Sinew is best described as nervous man who views himself as misunderstood; he thinks of himself as a mixture of an artist and a scientist, and that his vision of beauty is too much for the world to comprehend. As a result, he tends to keep to himself, studying his "muses" from afar, silently sculpting in his basement when he can acquire the materials to do so. He suffers from some form of insanity, and can swing wildly from being frightened and timid to raving mad accusations when put under pressure. He will normally attempt to avoid human interaction out of fear of making a scene, and will normally roll over to someone's requests if it means getting out of a conversation early.
Likes:
People with unique features, solitude, people who understand his work
Dislikes:
Critics, confrontation, unavoidable social interaction, people in general
Background
Sinew was always a strange child growing up. He was incredibly smart, allowing him to excel in school, but he was fascinated by what others found disturbing, and he forced his family to move out of shame when people in his hometown learned he had killed their family dog to dissect and investigate it. The years following, his parents attempted to quell his questionable behaviors, but to no avail. He felt they were trying to control him and stop him from reaching his full potential. One night, in a fit of frustration, he took a knife and killed them both as they slept. He almost immediately became fascinated with the remains, and began carving the meat off of the bones and stitching it together to create what he saw as beautiful art. To his surprise, he found that he was able to bring the monstrosity to life, and was fascinated by it ever since. He felt that this gift was a sign that his fascinations, his
art
was meant to be shared with the world, even if the world could not understand it. After the deaths of his parents, he fled to Ruby City, where he felt certain no extended family would be able to find and track him, and took up odd jobs where he could find them. Using his extensive knowledge of the human anatomy, he managed to work his way into the medical profession. Today, he works in a hospital in West Citrine, while his creation, whom he loving calls "Caramel", lives in the basement of his home.
Superhuman Information
Power Holder?:
Yes
Flesh Crafting:
Sinew has the ability to take dead human muscle tissue and reshape it into creatures of his own design. The amount of flesh he has to work with dictates the size and power of the monsters he can create: For example, to make one human-sized monster, he would need just over two average sized human bodies. The strength of the monster would depend heavily on the amount of flesh put into it, as well as the specific design of the monster; for example, "Caramel", his first creation, has two human's worth of muscle tissue, but was designed specifically to be a companion, and so has minimal combat capabilities. In general, his monsters are fairly difficult to kill as they do not have internal organs or blood to be damaged or bled, but smaller creatures tend to be held together poorly with such small amount of flesh, and a heavy enough amount of trauma could dismember them. The largest sized creature he can make theoretically would be twenty feet tall and require eight human corpses worth of flesh to build. Killed creations can be revived if repaired and stitched back together, also taking aprox. half an hour. Using fresher materials will reduce the amount of time taken to revive.
Monsters can only be revived in certain, pre-prepared locations, and the process takes a minimum of thirty minutes, increasing in time depending on the creature's size.
This power cannot be leveled up or increased in power through points; it will get no more powerful than this. Instead, points can be used to affect the flesh of Supers, allowing creating monsters with powers. Supers must be killed by Sinew or his creations to be used in this way.
Last edited by Vexation on Wed Jul 20, 2016 8:30 pm; edited 5 times in total
Alright... Power breakdown time.

Flesh Crafting
Pros
Summoning Power (Major)
Variable 2 (Flesh Contructs of any Sort) (2 Major)
Recyclable Material (Minor)

Cons
Touch Range (Implied) (Major)
Material Components Required (Deceased Human Flesh) (Major)
Power Dependant on Material to Work With (Major)
Severely Limited Upgrade Potential (?) (2 Major)
Slow Recycle: 30 Minutes (Minor)

Not bad, not bad. There is a bit of a problem here though. There are no real listed amounts, by which I mean the maximum amount of power you can crank out of this in one use.

At this point your power is balanced enough get access to a human-sized flesh construct each use. If the only way to upgrade this is in the single mannerism given and in no other way, then you can get quadruple that to start with and then doubled once again when you actually do that upgrade with the one point (totalling 8x the size of a normal human at max.)

The amount you have stated is 1 human's worth of material is worth a flesh construct 1/2 the size of a human. Children are worth 1/4 obviously.

Thusly, the I must request the alterations.

I find this individual to be sick and twisted. I would ask how he managed to get all the way to a career as a hospital nurse after his parents stopped going to work and bringing in money, how he managed to hide the fact that his parents were dead from investigating family members, neighbors, and police, how he'd feed himself and whatnot, but I guess it's irrelevant in the face of such a terrible person. : )
Thanks for the feedback! I'll get to work making actual amounts and adding a bit more to his backstory.
Alright, with amounts in order, and the background somewhat clarified I'll just get this out of the way. The tallest you could make is 20 ft tall for 8 human adults worth of material. Also, you can create the constructs in a single post for the first use of material (touch the material and whip it into shape), it will require 1/2 an hour to revive those constructs at your set location if they get broken, but it can be done faster with fresh materials (just resummon it with new materials)

This covers the amounts and specifics. Feel free to paraphrase or whatever, so long as the info is clear.
Alright. This character, while a disgusting slimeball who should be executed in the least humane way possible, is nevertheless
APPROVED

Similar topics
---
Permissions in this forum:
You
cannot
reply to topics in this forum