July 2019
| Mon | Tue | Wed | Thu | Fri | Sat | Sun |
| --- | --- | --- | --- | --- | --- | --- |
| 1 | 2 | 3 | 4 | 5 | 6 | 7 |
| 8 | 9 | 10 | 11 | 12 | 13 | 14 |
| 15 | 16 | 17 | 18 | 19 | 20 | 21 |
| 22 | 23 | 24 | 25 | 26 | 27 | 28 |
| 29 | 30 | 31 | | | | |
Calendar

Powerless form:
General Information
Name:
Kari Tsukami
Alias:
Magical Girl Snow Pluto
Age:
13
Gender/Sex:
Girl / Girl
Sexuality:
Too young to be Sexual
Height:
(4'5" / 137cm)
Weight:
(100 lb / 45kg)
Behavioral Information
Alignment:
(Good ;; Neutral ;; Neutral)
Personality:
Kari appears as an aloof girl who enjoys watching others or staring at nature. She is an introvert at heart and prefers to stay away from crowds. She is not very talkative but when she does speak, she speaks her mind and is pretty straight forward. Although she claims to be shy, she also is very confident in her ability. She is also a very hard worker who loves getting praised by others.
Kari has a very calm demeanor and does not show emotions very easily. Sometimes she supplement her quiet voice with little actions like raising up hand to express more exaggerated emotions but she normally ends up coming off as sarcastic or at best forced. Sometimes she would try to smile but it is never genuine, much to her displeasure. Because of her awkwardness, she gets picked on lot. When she does realize someone is being a jerk, she ignores them.
However, there is one questionable thing about Kari. The most common comment about the girl is that something is off about her. No matter the situation, she rarely response with a smile or a frown. It's only after people question her that she started attempting to imitate those "correct" expressions. Despite not being genuine she believes it make others around her more comfortable. Sometimes her parents worry that the girl might be empty inside but they never confront her about it. To them she will find her own way of expressing herself.
Likes:
Nature, quiet walks, seeing her friends happy, sweet foods.
Dislikes:
Anything too spicy, noisy people, large crowds
Background
Kari is the daughter of an immigrant from Japan and a native Ruby City. She was raised assisting in her father's business, a eastern inspired hotel. She would listen to stories about different parts of the world and sketch her imagination. One day, she accidentally brought her sketch book to class and a bigger boy found out. He secretly stole it and claimed he was the artist. After Kari found him, she tried to get it back. She asked  him. She asked him nicely. She even said pretty please. None of it worked. So then she just tried to grab it but the boy pushed her away. Kari did not know what to do. It was then that the boy had a change of heart, sort of. He said that if Kari would beg him and mean it, he would give it back. So Kari asked him again to return the book and said that she was begging him. The boy hit her in the stomach and push her to the ground. He said she was mocking him but she wasn't. She really wanted her book back, he just did not understand. Someone in the crowd did. A girl name Coale broke through the ring of students and pulled the book away. After return the book, she patted Kari's head and Kari felt something weird inside of her. It wouldn't be till a couple weeks later that she discovered her powers. Now with her this new gift, she seeks out Coale in hopes to understand why (and this is what Kari believes not what actually happened) Coale gave her this gift.
Superhuman Information
Power Holder?:
Yes
Basic Power:
Magical Girl Transformation: Pluto's Rebirth
Similar to Coale Valentine, Kari's transforms into an empowered state which gives her access to her powers. It takes a post to transform. Kari's transformed state is special because it creates a 15 ft (radius) zone around the girl and light Snow starts to fall around her (Level 0 non scaling). While in this zone, Kari can manipulate ice to attack the enemy (Level 5). The ice's shape must fit within 1.25ft cube and exceed no greater than 1.25 ft in any dimension. Ice attacks cannot leave the zone and immediately disappear after exiting. Should Kari leave the zone, a new one will be created around her position.
Kari can only have 1 zone out at a time.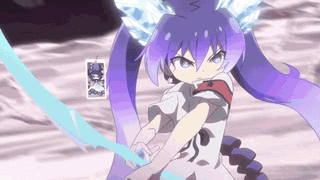 Last edited by Tsukami on Tue Jun 18, 2019 5:35 pm; edited 1 time in total



Posts

: 20


Join date

: 2019-06-13



New Mahou Shoujo ahoy!  Love the gifs.  Personality is fine.  Power is a bit early, but i guess you simply need to acknowledge she is an oddball.  

Power Breakdown:

Pros:
Hie Hie Zone (Major)
Snow-globe effect (Freebie)
Ice Wall Barrage, 5 ft radius cube (2 Major)

Cons:
Transformation Required, 1 post (???)
Zone does not move with her (Major)

So a couple things, If you want the transformation to be a Major con, similar to what the other magical girls did, I just need you to acknowledge that the time to transform scales with level.  As for the size of the ice attacks, I'm afraid that sort of size is a bit much for a level 1 power.  Even without the ice abilities, being able to thrown a 10x10x10 foot block of just about anything hard is pretty powerful.  Instead, I would allow rather than 5 ft radius, a 5 cubes feet volume (which is roughly 1.7 feet in all three dimensions assuming you make a perfect cube) Otherwise you may shape it as you please.  Agree to these two things and I think we should be good.



Posts

: 303


Join date

: 2016-07-05



bumped. Changes made per our conversation



Posts

: 20


Join date

: 2019-06-13



Looks like what we discussed. Therefore this app is
Approved



Posts

: 303


Join date

: 2016-07-05




Similar topics
---
Permissions in this forum:
You
cannot
reply to topics in this forum