July 2019
| Mon | Tue | Wed | Thu | Fri | Sat | Sun |
| --- | --- | --- | --- | --- | --- | --- |
| 1 | 2 | 3 | 4 | 5 | 6 | 7 |
| 8 | 9 | 10 | 11 | 12 | 13 | 14 |
| 15 | 16 | 17 | 18 | 19 | 20 | 21 |
| 22 | 23 | 24 | 25 | 26 | 27 | 28 |
| 29 | 30 | 31 | | | | |
Calendar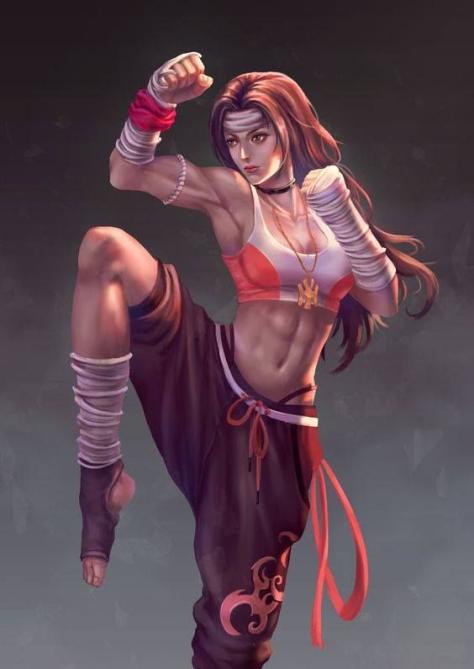 General Information
Name:
Aella Faline
Alias:
Storm Leopard
Age:
17
Gender/Sex:
Female
Sexuality:
Bisexual, leans heavily towards girls.
Height:
5'7" or 170cm
Weight:
120 lbs or 63kg
Behavioral Information
Alignment:
Neutral, neutral, nice (leans towards heroes)
Personality:
Aella is a hardworking and dutiful by nature, she's the type of person that puts her all into everything she does and hates to lose. She has a tendency to be hyper competitive and has little respect for people who rely purely on superpowers to win a fight. She's generally friendly with other people but enjoys a good fight and isn't afraid to say so. She tends to be rather levelheaded despite this, surprisingly difficult to anger despite a tendency to get carried away in the heat of the moment. She's something of an addict when it comes to competition and can easily be described as an adrenalin junkie. Aella follows her own code of honor and tends to be something of a technophobe. Despite her dislike of losing, she tends to be something of a good sportsman, and will dedicate hours to improving if she sees a notable gap in abilities, no matter what type of contest she's lost on.
Likes:
Hard work, fighting, gardening, contests, sports, animals.
Dislikes:
Losing, drugs,  sore losers, technology, cars.
Background
Aella was born to a happy family originally, only for it to be shattered early on by tragedy as her parents both died in a car crash. As a result, Aella was raised instead by a couple of family friends, specifically an elderly pair of martial artists, that lived within Ruby city. Specifically, within South Emerald on their own property. Aella ended up trying martial arts early on and has been training from a young age in Muay Thai, as she found the style suited her well enough. While it took her time to adjust, as well as getting through the tragedy of her parents' deaths, Aella has had a mostly normal life in Ruby city, she currently attends Alabaster high school, and has had a habit of flipping between sports clubs over the years as different ones catch her interest. She does also frequent underground fight clubs. There are more than a few rumors within the school about this, though nobody has actually confirmed it.
Superhuman Information
Power Holder?:
No
Martial Artist: Muay Thai:
The user of this power has been blessed with an uncanny mastery over a martial art. They have solid control over their body's movements and can perform borderline supernatural feats of martial prowess.



Posts

: 38


Join date

: 2019-01-25



Everything seems to be in order. Power follows guidelines.
Approved



Posts

: 303


Join date

: 2016-07-05



---
Permissions in this forum:
You
cannot
reply to topics in this forum