July 2019
| Mon | Tue | Wed | Thu | Fri | Sat | Sun |
| --- | --- | --- | --- | --- | --- | --- |
| 1 | 2 | 3 | 4 | 5 | 6 | 7 |
| 8 | 9 | 10 | 11 | 12 | 13 | 14 |
| 15 | 16 | 17 | 18 | 19 | 20 | 21 |
| 22 | 23 | 24 | 25 | 26 | 27 | 28 |
| 29 | 30 | 31 | | | | |
Calendar

It was a lovely morning, not a cloud in the sky.  The wind was calm but had a slight chill that made the warms sun feel just perfect.  Despite being part of the massive host that was Ruby City, Alabaster High School had an oddly tranquil feeling early in the morning.  That is, if you ignored all the groaning teenagers wishing for the day to end.  Students were filing into the school, some groggy, some neutral, when a pristine black car pulled up to the school.  The driver, a middle aged man in a finely pressed suit, got out of his seat and pulled open the back door.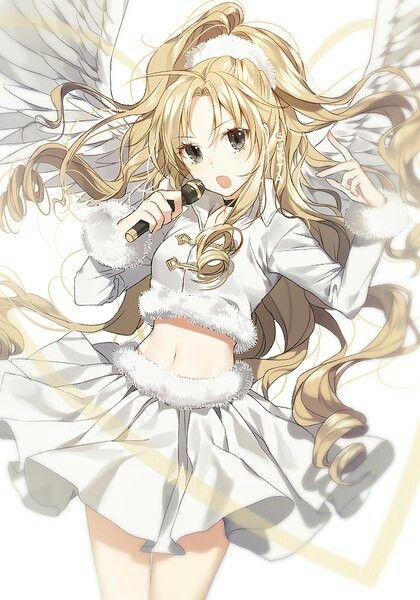 From the car emerged a blond beauty beyond compare.  She wore a snow white top paired with a skirt.  Her hair was wavy blond, with not a single strand out of place.  She had a relaxed yet confident air to her that could very well be described as that of royalty.  She waved off the driver as he bowed, returned to the car, and drove off.  She strut over to the entrance of the school and all in the way moved to let her by.  Even those drowsy and cranky could not help but feel elated at this angel walking in their midst.  If it weren't already sunny, one would have thought the sun had just peaked out from behind storm clouds.  And indeed, this princess had an aura to her that just radiated from her very being and attracted the attention of all those around her.  Though, this is not just metaphorically, as there actually was light being emitted that haloed around her.  As she walked inside, all around gave her a wide berth, but still male and female alike couldn't help but have their eyes drawn to her.  
She was Paulina Crowley, daughter of Almadel Crowley who was a very successful businessman and CEO of one of the largest conglomerates of it's type and a super that regularly had calls directly from the SF HQ.  Therefore her air of royalty was not just for show, as she certainly had the means to back it up.  She was certainly a shining star in every sense of the term.
Donovan Rowan skated through the streets almost lazily as he muttered to himself about having to attend school again. He himself was a bit late, not that he really cared about that, they didn't teach anything helpful anyways in Donovan's opinion, but the last thing he wanted was to get lectured at by some old fart that thinks they know something. The boy dd at least slow down somewhat as he approached the school, having to suddenly maneuver around people that seemed distracted for some reason.

Then suddenly, a light in the corner of his eye distracted the delinquent, and he almost ran into someone as his head turned. Donovan stopped himself a moment later, before turning his attention back to the source of the strange light to see a girl…though not just any girl. Donovan blinked as he noticed just how attractive she was, before shaking his head to regain some semblance of self control. H tried to turn his attention to something else, though found his eyes continually veering back to the light. The boy wouldn't even notice his walking path would take him right into her own path as he tried to distract himself from the weird glowing chick.

Paulina wasn't paying much attention to what was directly in front of her. There was no way anyone would dare stand in the path that she walked. She was much to beautiful and too marvelous to have to wait behind others. Instead, most of her attention was focused on appealing to her audience with subtle gestures that would send their hearts aflutter, and showing off her magnificence and shining form. Before she noticed anyone was there, she bumped into the skater boy crossing her path. She gave a quick shout in surprise as she fell backwards, landing flat on her butt. The halo of light that had surrounded her flickered off. She propped herself up on her hands and rubbed her now sore hip. When she finally looked she saw it was a boy that she had run into. The realization caused her to freeze up, her face somewhere between horrified and disgusted.
Donovan hadn't really expected to be run into on the path, and even if he were able to tell the girl was behind him, his inattention caused it to be inevitable. He stumbled forward, though catching himself without actually ending up falling. The skater boy swore loudly, and profusely as he spun around, more than a bit annoyed at being stumbled into by some kind of idiot. Only to stop short seeing the girl he'd been trying to avoid staring at.

He stopped his own swearing, frowning at the look on her face. "dammit, plannin' on getting up?" He reached down, grabbing her arm somewhat roughly and yanking her to her feet. Though he was wary enough to avoid actually hurting girl for the most part. At the same time, Donnovan felt a bit awkward about the whole thing. He didn't have a lot of experience talking to girls, and still found himself avoiding actually looking at her, even if the brief look he did give her revealed a less than pleasant look. It was still a fairly attractive girl,

Before Paulina had a chance to react, Donovan grabbed ahold of her arm to pull her up.  As soon as he did that her eyes went wide and her pupils dilated.  Finally, a scream left her mouth, "Don't touch me! Let me go!"  As she did that the light that had surrounded her body shone with much more intensity than before.  It would now be difficult to look directly at her even if one wanted to.  Additionally, Donnie would start to feel an uncomfortable burning, as if from the sun on a clear hot day, from where he was touching Paulina's arm.  Paulina wrenched her arm away, violently and fervently trying to escape him.  Once free, she would back up a considerable distance before the light emanating from her body would begin to fade again.  She held the arm that had been touched like it had an injury and her eyes were like that of a scared animal watching a predator.  Her breathing was heavy, and she was clearly shaken.  

After a few seconds her breathing began to stabilize and her eyes transitioned more to one of revulsion.  She stared down at the boy, head tilted up slightly just so she could look down on him.  "How dare you!  Not only do you get in my way and knock me over, but you also feel that you have the right to touch me?  Don't you ever touch me again, commoner."  Paulina pulled herself away even more, her disgust evident to all around.  There was some whispering in the crowd, but none made a move to either intervene nor to leave.  This wasn't the first ruckus Paulina had caused.  Whenever someone came even close to making contact with her she would get upset.
Donovan was somewhat grateful that he hadn't been looking directly at the girl, as even still he could see how bright the lights the girl made was. Even still he could feel his hand actually began to grow hot, and he didn't even bother trying to hold onto her, even if he had a reason to. She was on her feet, for however much that was worth. The skater hadn't really expected her to get this pissy about it, any nervousness he might have felt fading as she ranted and instead, he gave an irritated look.

" ain't my fault you're too stupid ta watch where your going," The boy retorted. "tch, last thing I need ta deal with is some stuck-up bitch =, yellin' over nothin' the boy glared back at the girl, wondering what the hell her deal was. Before realizing what, she'd called him. Figured it was just another pissy rich chick. He didn't really get what her problem was, and while she was attractive, Donovan found himself not caring much about that given how the crazy bitch was yelling at him.

Paulina gave a scornful half laugh.  "You're calling me stupid?  You look like the type who's going to drop out of school any day now and join some backwater gang in East Diamond.  That is, if a hoodlum such as yourself isn't already a part of one."  She let go of her arm and waved at him dismissively, "And you should well know it is you who needs to mind where he's going.  You really can't understand that when I walk by, you let me through?  Get with the program.  You can't even complete the simple task everyone else is already familiar with.  How pathetic.  Why don't you crawl back to your cardboard box so you're sure you won't get in my way anymore?  Even using such vulgar language against me!  You're lucky I'm letting an uneducated commoner like yourself off with just a scolding.  So I'll give you this warning as simply as possibly so even you can understand."  She pointed directly at him and stared him down.  "Do not touch me.  Ever."
Donovan glared at the ranting girl, gritting his teeth at the girl's rant. The whole thing was testing his patience, and Donovan wasn't anywhere close to a patient person. "An' why the hell would I do that?" The former gang member asked, enraged. He stopped himself as the thought hit him that this was the exact type of trouble he didn't need, and Donovan had to remind himself that at the moment at least he was still on probation. "Whatever, I don't have time to deal with some stuck-up brat, go bitch at someone who cares."


Paulina cautiously watched as Donovan walked off.  She looked over with a fake aura of confidence just enough to cover up her anxiety over the physical contact.  "He says he won't leave, but he does so anyway.  I suppose I shouldn't expect someone like him to be able to make good on his word."  Paulina brushed her hair back over her shoulder.  She closed her eyes and took a few deep breaths to recollect herself.  Finally, she reopened her eyes and raised a hand in declaration.  "Anyway, pay that hoodlum no mind.  You can all continue to admire me!"  Her halo of light shone once more and she continued her strut into the school.

Similar topics
---
Permissions in this forum:
You
cannot
reply to topics in this forum