July 2019
| Mon | Tue | Wed | Thu | Fri | Sat | Sun |
| --- | --- | --- | --- | --- | --- | --- |
| 1 | 2 | 3 | 4 | 5 | 6 | 7 |
| 8 | 9 | 10 | 11 | 12 | 13 | 14 |
| 15 | 16 | 17 | 18 | 19 | 20 | 21 |
| 22 | 23 | 24 | 25 | 26 | 27 | 28 |
| 29 | 30 | 31 | | | | |
Calendar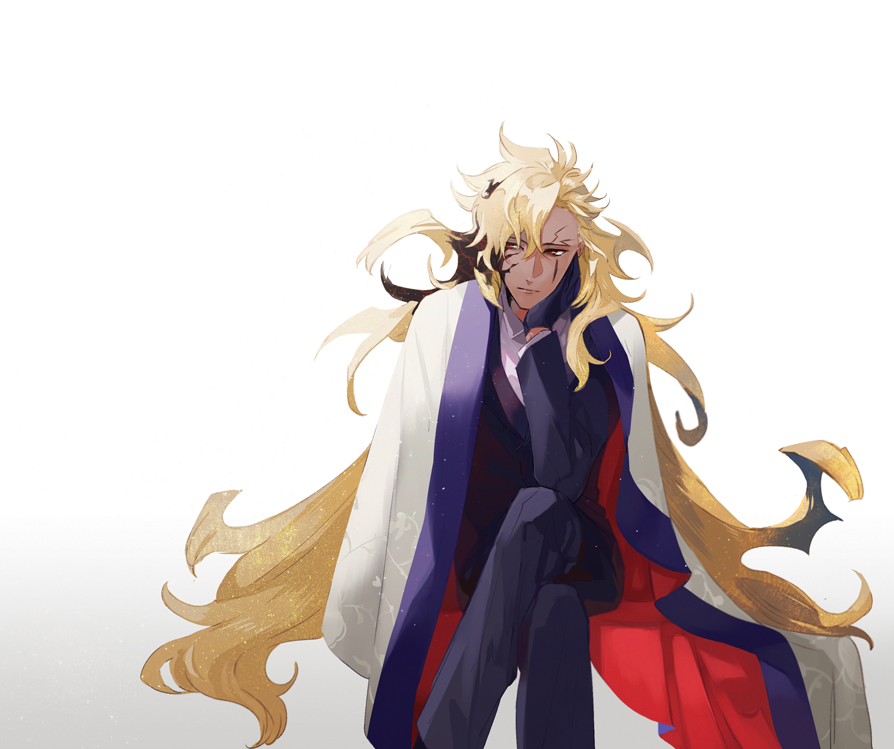 General Information
Name:
Goetia Crowley
Alias:
Carnage
Age:
20
Gender/Sex:
Male
Sexuality:
Omnisexual
Height:
6'4" (193 cm)
Weight:
196 lbs (89 kg)
Behavioral Information
Alignment:
Evil ;; Chaotic ;; Nice
Personality:
From the outset, Goetia seems to have a very passive and submissive personality.  This mostly derives from his rather assertive sisters and the fact that it is his mother that is the head of the household.  He has a tendency to help people out when asked even if it's inconvenient for him.  However, on the inside he is a huge sadomasochist.  He revels in the very idea of pain, whether on others or himself.  While he is able to hold back his tendencies most of the time, seeing blood tends to set him off.  He has a soft spot for his little sister Paulina despite her domineering and somewhat cruel personality, and is always willing to help her out when needed.  Ironically, this allowed him to get closer to her, and he is one of the few people she does not get repulsed by upon physical contact.  Like all family members he is subservient to his mother Theurgia, and also listens obediently when his father Almadel tells him what to do.  Ever since his older sister Notoria went off to live on her own, he is the one who sees her the most, and the two have a rather casual sibling relationship.
Likes:
His family, Smiles, Games, Blood, Pain
Dislikes:
People who hurt his family, Idealists, Apathy
Background
Goetia grew up a part of the very wealthy Crowley family. The Crowley family name is an old one, but they have mostly kept to themselves until the current generation.  The family has a long history in the criminal underground and has spawned many powerful supervillains.  Despite their notoriety, they've been able to keep their position in the criminal world relatively hushed up.  Few know the family name directly, as there they are referred to as The Salomonis.  It was the willful next head of the family Theurgia, Goetia's mother, who brought them back into the public eye with the help of her new husband Almadel, who took her family name.  As a result, Almadel effectively runs the cover business, while Theurgia, the true family head, deals in the underground affairs.  
The Crowley's have always been a matriarchy, so Goetia has never been destined to head up the family, even when his older sister, Notoria, rejected the position.  As a result, his father Almadel has always been much more strict with him, while he pampered his two daughters.  On the other hand, Theurgia, always having an unmatched intuition, saw in him a potential for great power and always held high expectations for him, even if she never vocalized it.  Despite this Goetia never resented his family members.  He tended to take things in stride and always wanted to take care of his family.  While his younger sister Paulina was being pampered and prepared to be the next head of the family, Goetia was pushed by his parents into assassination.  Goetia took to it well, even reveled in it.  He always had a fascination with pain in all its forms, so he enjoyed his training and first tasks.  
Goetia graduated from Alabaster High School at a normal pase, unlike Notoria, while keeping his power exposure to a minimum, wanting to avoid too much attention.  He is currently attending a prestigious university in Ruby City while helping out in the "family business".  While doing his assassination and espionage work, he wears a unique mask with three vertical eye slits and goes by the name Carnage.
Superhuman Information
Power Holder?:
Yes
Ars Cruciatus:
Goetia is able to morph his fingers into elongated claws.  These claws are as tough as steel and as sharp as a knife along the entire length of the finger.  From the hand to the fingertips, the claws are a length of 8 inches.  As a result, the claws are rather heavy and he can't lift them for prolonged periods of time, limited their effectiveness and making prolonged fights more difficult.  Additionally, the transformation has an effect on his nervous system, causing convulsions in his forearms that render them immobile for one post whenever they change form.



Posts

: 45


Join date

: 2018-12-31



A sadomasochistic assassin from a well off family.  What could possibly go wrong?
Power Breakdown
Pros:
Claws (Major)
Tough as Steel (Major)
Cons:
Heavy (Major)
Convulsions (Major, scaling)
Well, of course it's balanced, because I "helped".  Anyways...
Approved



Posts

: 304


Join date

: 2016-07-05



---
Permissions in this forum:
You
cannot
reply to topics in this forum