July 2019
| Mon | Tue | Wed | Thu | Fri | Sat | Sun |
| --- | --- | --- | --- | --- | --- | --- |
| 1 | 2 | 3 | 4 | 5 | 6 | 7 |
| 8 | 9 | 10 | 11 | 12 | 13 | 14 |
| 15 | 16 | 17 | 18 | 19 | 20 | 21 |
| 22 | 23 | 24 | 25 | 26 | 27 | 28 |
| 29 | 30 | 31 | | | | |
Calendar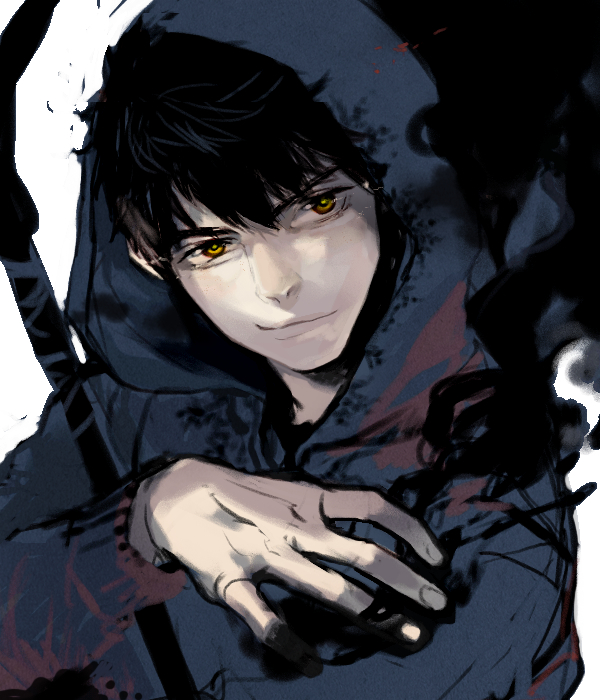 General Information
Name:
Shawn Pozy
Alias:
Tormentor
Age:
15
Gender/Sex:
Male/Male
Sexuality:
Heterosexual
Height:
5'6"/1.68m
Weight:
134lbs/60.78kg
Behavioral Information
Alignment:
(Neutral ;; Chaotic ;; Mean)
Personality:
Shawn was always possessive of his belongings, refusing to share and throwing a fit whenever someone touched what he viewed as his, while at the same time taking great joy in interfering with the affairs and possessions of others. When his powers manifested and he found he could interfere more directly with people, this habit of upsetting people for his own amusement only increased. After the accident in which he lost his body, the near death experience only strengthened his desire to hold onto what he viewed as his, which had shifted to be his new host, a boy named Brian Hedron, and everything Brian owned. As a result of seeing Brian as his possession, Shawn takes great joy in tormenting the boy, depriving him of sleep, and blaming him for Shawn's "death".
Likes:
Tormenting Brian, his possessions, cigarettes
Dislikes:
Other people messing with Brian, alcohol/mind altering substances, denim jackets
Background
Shawn Pozy was born and raised in North Sapphire. An only child, his parents spoiled him as a child, and sure enough, he went rotten. He delighted in tormenting others while still having remarkably thin skin himself. He was rude, crass, ignored most social norms, and broke rules simply for the sake of breaking them. He developed a smoking habit at the age of ten, and made no effort to hide it from his peers or parents. Once he turned fourteen and his powers manifested, he took his joy in tormenting others to new levels, invading the minds of others and harassing them for their most embarrassing moments and deepest regrets. One day, while in the mind of his classmate Brian Hedron, Brian lashed out at Shawn, forcibly shoving him headfirst down the stairs he was sat on, accidentally killing his body, but Shawn was still alive and well in Brian's mind. Horrified at the fact he would never again have a body truly to call his own, Shawn decided that he would make Brian, a normally shy, nervous boy only a year younger than himself, into his new home, and after a few days of silence to collect himself after the event, he set to work "fixing and cleaning" his new home.
Superhuman Information
Power Holder?:
Yes.
Parasitic Possession:
Shawn is able to inhabit the mind of  another non-super human. While possessing them, he has access to their thoughts and memories, but has no control over their thoughts or actions. He is immune to hunger and thirst, and has no need to sleep as he is not using his own body, only his consciousness, and is able to manifest himself as a visual and auditory hallucination that can be seen only by his current host. While these hallucinations can be anywhere within that person's line of sight, since they are a hallucination, his perception is still confined to his host's perception, not the manifestation's. While possessing someone, he has no control over his own body, but he himself does not die if his body dies while he is possessing someone. If his host dies while he is possessing them, he dies with them. Similarly, he feels pain that his host feels. In order to possess a new host, he must first establish that he is attempting to change hosts, and then maintain line of sight with them for 25 seconds/one full post, and they must not be more than 15m away. This effect of transferring to a new host cannot be cancelled by Shawn.
Last edited by Cognition on Sat Nov 10, 2018 11:22 pm; edited 1 time in total



Posts

: 32


Join date

: 2018-11-10



Making another character Jolly?  Not that I blame you, given our population.  Let's get down to it.  
Background checks out and matches in universe requirements.  Other minimum criteria seem to be met.  So lets move onto the power breakdown!

Pros:
Mind Habitation - he is able to move his consciousness to another body and access memories and thoughts (Major)
Self Hallucination - can make an illusion of himself appear to the possessed, but only of his own body and nothing otherwise supernatural involved (Minor)
Nonessential Sustenance - Does not require or feel the need of food water or sleep while possessing (Major)
Beyond Death - if his body dies while possessing someone, he does not die (Major)

Cons:
Detached - Has no control over his own body while possessing (Major)
Shared Fate - feels pain of and dies with his host (Major)
Focused Transfer - requires line of sight for one full post and they must be within 15 m (Major)

A couple things.  I assume for him being immune to hunger and such you mean that is the case while he is possessing someone.  Now I know he no longer has his body, but it should be there for clarity sake, so just fix that.  Relatedly, the Pro: Beyond Death and the Con: Detached cancel out in their severity and the fact that at the time of the current story, neither are relevant parts of his power, but good to include in the description nonetheless.  Next, Focused Transfer does not need the "25 seconds' descriptor as time is measured in posts here, but you can keep it for aesthetic purposes if you wish.  Finally, you are almost balanced, but not quite.  I have a suggestion for Focused Transfer that could bump it up to Major and a Half if you take it.  You must establish beforehand that you are attempting to transfer to another body.  If you do not establish this and look at them, you will not be able to transfer.  
If you accept that, go ahead and make the changes and respond afterwards.  If you have another rendition, change it to that and respond that you have done so.



Posts

: 304


Join date

: 2016-07-05






Posts

: 32


Join date

: 2018-11-10



Update seems to checkout, so you are:
APPROVED



Posts

: 304


Join date

: 2016-07-05



---
Permissions in this forum:
You
cannot
reply to topics in this forum