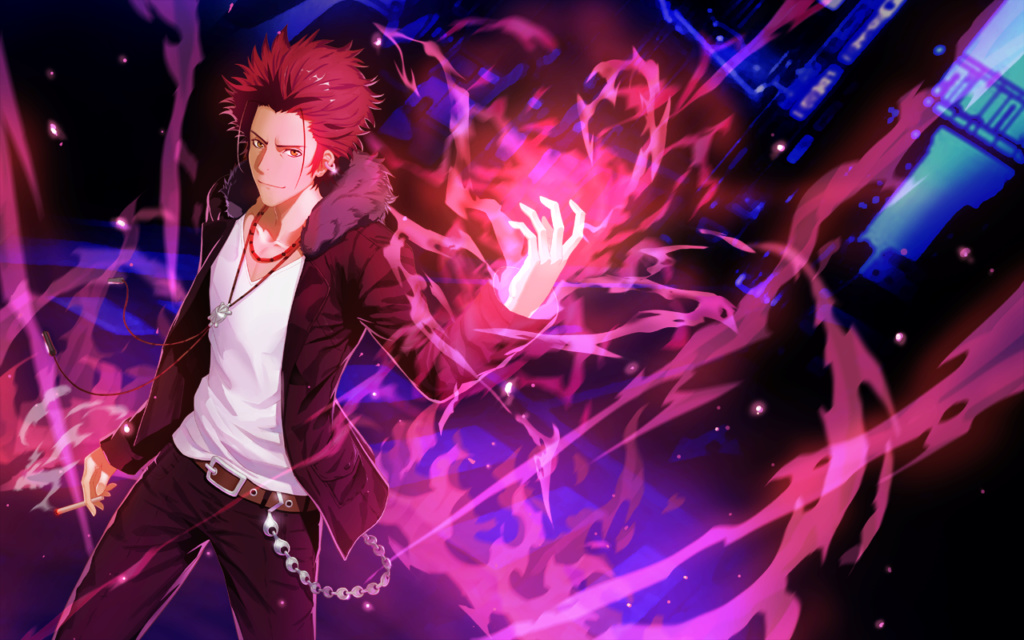 Reid, a boy of 17 with fiery red hair and an 'I don't care' attitude, strode down an empty hallway.  They weren't empty because school was over.  In fact, it wasn't even lunch break yet.  Well, it almost was.  Reid had been feeling hungry, so he walked out of his last class in order to get an early lunch.  The teacher hadn't bothered to stop him.  He had done so so many times that most of the teachers didn't care if he stayed, so long as he didn't interrupt their class.  He had finished eating by this point but didn't want to go back to class, so he just lazily walked, looking for something to do.   The bell rang, signalling lunch break, and dozens of students began flooding the halls.  Most students avoided looking his way.  Everyone gave him a wide berth.  As he walked, it was like the sea was parting just for him.  After all, no one wanted to be associated with him, and it was uncommon for someone to confront him.  
After a few minutes the number of people had been reduced considerably, only a few grabbing stuff from their lockers and preparing to leave.  However, one boy emerged from a classroom long after everyone else had gone.  He too avoided looking at Reid and walked on the other side of the hall to him.  Reid eyed him as a small smile appeared on his face.  The boy passed him, trying to be as discrete as possible.  
This kind's all alone?  Staying late in class?  Poor kid.  But maybe he can entertain me for a while.
 After the boy had passed Reid flexed his fingers on his left hand, causing a few audible cracks, and a red aura began flowing around it, the occasional flicker of a red beam, snaking similarly to a bolt of lightning but not as fast.  The next moment, one of the beams streamed towards the boy, making contact with his leg just before it hit the ground and vanishing immediately afterwards.  The sudden numbness in the boys leg caused him to stumble forward and sent him sprawling, his textbook sliding farther down the hallway.  
Reid turned all the way around and began slowly walking up the the fallen boy, a tigers smile adorning his face.  "What's wrong kid?"  He reached the boy whose name he did not know and squatted down.  "So clumsy you can't even walk down an empty hallway without tripping?  Here, I'll give you a hand."  Reid held out his hand, the red aura tight to his skin.  The boy looked between his hand and his face, clearly frightened.  After a few moments Reid grew impatient.  "Fine, then I'll just do it myself."  Reid grabbed the boy by the forearm and hoisted him up while simultaneously a red bolt arched into his arm.  The boy let out a quiet yelp of pain as Reid's firm grip suddenly felt like it was crushing his arm.  "Come now, it can't have been that bad.  Now, while we are here, why don't we play a game.  I promise, it wont hurt you."  The tiger smiled.  The mouse cowered.
Yin and Yang were casually walking to the cafeteria, more focused on one of their silent conversations with one another than anything else. However, even their attention was grabbed by the distinct sound of someone falling to the ground, followed by a yelp of pain. They paused and walked back the way the had came, away from their destination, to investigate; curiosity was always a vice of theirs. As they rounded the corner, they saw an older student roughly holding a younger one by the arm. At first, they intended to simply sit back and watch, but they quickly realized they recognized the student: he was one of the crew members for the drama department.
How rude of him to attack one of our friends. Yin thought in an angrier tone than normal.
Quite rude indeed, even if the boy wouldn't agree with such a label. Yang agreed. The two strode towards the pair, their hard soled shoes loudly announcing their arrival. The younger student's eyes flicked to them for a moment, and he deflated; he was familiar with the twins and their games, so dealing with them as well as this student was not something he wanted to do.
"So sorry to interrupt!" Yang started, a faux smile on his face.
"But we heard you talking about games! We would love to play!" Yin added. The two strode right up to large boy, planting themselves well within what most people would class as their personal space. They tilted their heads toward another, and smiled at him; not a friendly smile, but one that held the vaguest hint of a threat. Their message was rather clear; leave the boy alone, you have bigger fish to fry.



Posts

: 78


Join date

: 2016-08-17



Reid hardly cared to notice the pair clomping up to him.  It wasn't until the two spoke when he acknowledged their presence.  At first he gave the two a curious look, but smiled when they said they wanted to play along.  Reid let go of the kids arm and opened up his arms as if in welcome.  "Oh?  You want to join in?  Be my guest.  I hope you can entertain me well."  Reid didn't even react to their threatening demeanor.  Clearly he either didn't notice or wasn't intimidated at all by the two.  By this time the effects of Reid's power had already died off, leaving the boy unaffected.  While he had released his arm, his positioning indicated he had no intention of letting the boy scurry off.  Reid radiated confidence, not feeling a hint of being outnumbered.  "Tell you what, if you can make it entertaining for me, I'll even let you pick. So, what game do you want to play?"
The twins cocked their heads in opposite directions, a cold smile in each of their mouths. "Sweet sister, did this strange, strange boy just offer to play a game..."
"And then not even have one in mind, loving brother? I believe he just did."
"Is he confused or daft, I wonder?"
"It could easily be both."
As they spoke, Yang reached forward and gently took the boy by the arm, pulling him away from Reid. "He is our friend." Yang explained, his tone shifting from their playful, condescending tone to a more serious, cold one. "And we do not approve of people being rude to our friends."



Posts

: 78


Join date

: 2016-08-17



Reid huffed at the two.  "Since you two seemed so eager to join in on the fun, I thought I'd be generous and give the option to you.  I guess I was wrong to give you the option."  At this point, Reid's aura had shifted a bit away from playful and a bit more menacing.  After Yang pulled the boy away Reid responded, "Rude?"  Reid gave a laugh, "All's I did was help a fellow student stand after he had fallen.  And I even invited him to play a game with me too.  How can you call that anything but accommodating?"

Reid shook his head and looked Yang straight in the eyes.  "Regardless.  As you two refused this opportunity and dragged this on I'm starting to get bored, so we will be playing my game instead.  With a few alterations from what I originally planned."  Stealthily, Reid coiled a red bolt around behind the three and quickly struck the point of contact between Yang and the boy.  The bolt, having come from behind, and traveling fast enough, may have not been noticed.  The bolt would affect both of them, amping up their sensitivity to pain upon contact to where even light touches sting.  If anything, the spontaneous stinging feeling would be a shock. As soon as the bolt made contact, it disappeared, and Reid waited with excitement for the reaction of the two.

Similar topics
---
Permissions in this forum:
You
cannot
reply to topics in this forum