July 2019
| Mon | Tue | Wed | Thu | Fri | Sat | Sun |
| --- | --- | --- | --- | --- | --- | --- |
| 1 | 2 | 3 | 4 | 5 | 6 | 7 |
| 8 | 9 | 10 | 11 | 12 | 13 | 14 |
| 15 | 16 | 17 | 18 | 19 | 20 | 21 |
| 22 | 23 | 24 | 25 | 26 | 27 | 28 |
| 29 | 30 | 31 | | | | |
Calendar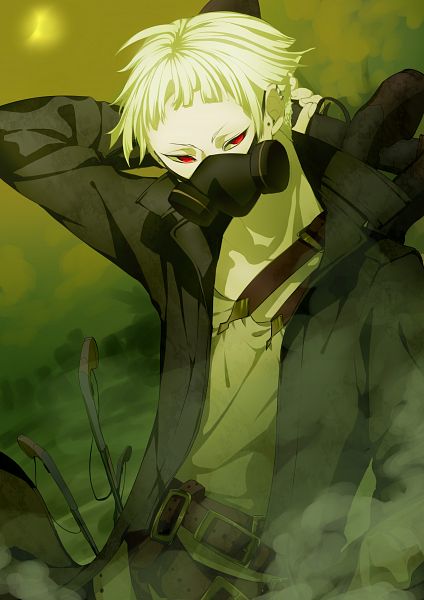 General Information
Name:
Gasper Cloude
Alias:
"Knockout" or "Stinkbomb", depending on who you ask.
Age:
22
Gender/Sex:
Male
Sexuality:
Heterosexual
Height:
5'8", 1.73m
Weight:
138lb, 62.6kg
Behavioral Information
Alignment:
Evil, Neutral, Neutral
Personality:
Gasper has been through a lot in his short life, and so has become hardened, even numb. He has a general air of apathy, though he does take great pleasure in experimenting, and has been known to lash out at people who try to push his buttons. While normally reserved and quiet, he does enjoy conversing with people who share an interest in science.
Likes:
His gang, people watching, experiments
Dislikes:
"The Wicked Witch of the East" and her group, homeopathy/pseudoscience, liars
Background
Gasper was always a "troubled youth". His parents abandoned him when he was young, and he was constantly in and out of various foster families, usually running away from them for one reason or another. By the time he was thirteen, he had ended up falling in with the Oz gang in Mocca City, using his uncanny chemistry skills to help them in their drug labs. Within a few years, he had gotten a significant amount of respect in the gang and was peddling on the streets with his brothers and sisters. The gang became his only life, the only family who he could really trust, the few people he felt truly loyal to. When the Wicked Witch of the East and her splinter cell broke away in rather violent fashion, he lost several people he had close to him, and the trauma seemed to awaken something within him, and he was more than willing to use this power to punish those who hurt his family.
Superhuman Information
Power Holder?:
Yes
Noxious Fumes:
Gasper can spray aprox. 2400 cubic feet of foul-smelling, visible gas from his palms (enough to fill a small room) that causes adverse effects to those who suffer prolonged exposure. If someone remains in the gas for one full post, on the start of their next post, they will experience eye and respiratory irritation, inhibiting breathing and vision. After three full posts, they will have lasting aches and pains for up to two posts after vacating the gas, and if they remain in the gas for five full posts, they will pass out. Gasper is NOT immune to his own gas.
Last edited by Vexation on Wed May 09, 2018 11:18 pm; edited 1 time in total



Posts

: 326


Join date

: 2016-07-20



Honestly this is a very balanced power. Just need amounts, size of the gas cloud mostly.
Admin




Posts

: 107


Join date

: 2016-06-25



Updated the power to fill a small room (2400 cubic feet).



Posts

: 326


Join date

: 2016-07-20



I would have preferred this in a 'radial hemisphere' sense, but after doing math, this works regardless.
Approved.
Admin




Posts

: 107


Join date

: 2016-06-25



---
Permissions in this forum:
You
cannot
reply to topics in this forum