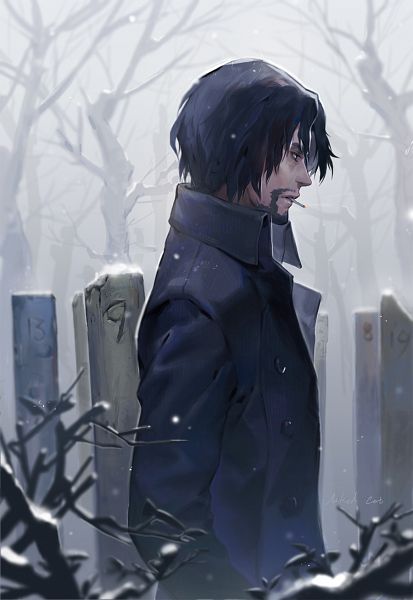 General Information
Name:
Terry Miles Nawl
Alias:
Claw
Age:
28
Gender/Sex:
Male
Sexuality:
Straight
Height:
6', 1.83m
Weight:
234lb, 106.41kg
Behavioral Information
Alignment:
Evil, Neutral, Mean
Personality:
Terry is a dying man who is aware and enraged by his impending death. His knowledge of his mortality drives him to be very active, aggressive, and constantly moving, while his "illness" forces him to slow down significantly, causing him to swing wildly from violent outbursts to quiet introspection. He's both a sower of chaos and a calm philosopher, but above all, he is a determined, impatient, very angry man.
Likes:
His job, his unique perspective on life, a challenge
Dislikes:
Stagnation, his illness, anyone who tells him to slow down
Background
Terrance never knew his parents, and he was fine with that. He always loved stories at his time in the orphanage as a kid, and all the best ones featured people who had awful beginnings, but through struggle and hard work, managed to change the world. He wanted nothing more than to become larger than himself, but things never quite worked out for him. In his early twenties, he managed to get a job working at a local library in Ruby Central where he was able to share his love of stories with children who could maybe benefit from them more than he did.
Four months after his twenty-eighth birthday, however, his whole world came crashing down when he noticed a black splotch in the skin of his left hand. The doctors said it was a sort of mutation power, but it would likely kill him instead of make him some sort of hero. They gave him three to four years left to live. Devastated and enraged by all the cruelty life had thrown at him, Terry decided that if this thing was going to kill him, he was going to make it work for him first. He went into Mocca City and started stirring up trouble until he managed to recruited by a group called Oz. Shortly after his arrival, infighting resulted in it splitting. He remained loyal to the main group, and now lives in service to the gang he now calls his family, and last driving purpose in life.
Superhuman Information
Power Holder?:
Yes
Cancerous Flesh:
Terry's power causes his flesh to mutate into a black, leathery muscle mass instead of normal muscle tissue. He cannot control what muscles are affected, nor can he accelerate or slow down the spread. Muscles affected by this mass are given increased strength (roughly 3.5X that of a fit human of the same build), damage resistance (able to stop medium caliber rounds and significant resistance to bladed and blunt melee), immunity to exhaustion, and increased weight (making attacks much more dangerous and difficult to block), but also reduces his dexterity/agility by making joints slightly less responsive. Currently, the only muscles affected are those in his hands and fingers, which have turned into 1.5" long claws capable of shredding kevlar. This bio-mass is barely compatible with the human body, and despite making him significantly stronger and harder to kill, causes significant circulatory and respiratory issues, especially after exertion. As a result, after each post of heavy combat (essentially every graded thread), he is then bed ridden for at least one thread, and cannot participate in heavy exertion for at least one more after that without serious consequences. Additionally, when the disease hits his heart, it will cause it to shut down and kill him.



Posts

: 326


Join date

: 2016-07-20



Too much for a base power. Narrow it down to a decent unified effect or a handful of weaker effects. Also I cannot plausibly rank the narrative detriments you've listed, which, while they are gnarly in a narrative sense, don't do anything to make your power worse in an active sense.

Story complications are not detriments I can systemize. For example if I approve a strong power that basically turns you into Alex Mercer but has the downside of 'has a 1% chance to kill him every time he uses it' or 'cannot control which body part this works on' (I don't have dice for this reason), this means that there is now a precedent for these meaningless detriments to mean as much as or more than actual power limitations and drawbacks like the inability to affect humans with a healing power or the detriment of always glowing in the dark removing stealth as an option.

This isn't to mention how this power with a single Skill Point could instant-kill anyone by spreading cancer across their heart and killing them.

Anyhow my recommendation would be something like this:

Cancerous Flesh: Terry's power causes his flesh to turn into a black, leathery muscle mass and back. The affected areas have roughly twice the strength and endurance of a normal person's, and the skin doesn't break as easily, requiring weaponry or superhuman strength to make them bleed, nor does it feel pain. As it stands they can only affect a single extremity's (hands, feet, limb sections) worth of body at a time, and doing so will exhaust him greatly after three rounds of heated combat or exertion. Affected body parts also lose a degree of dexterity and coordination.

This trims the fat down to acceptable levels, but you can trade out pain resistance to get a clawed hands perk instead, though they would only be akin to storebought knives rather than 'kevlar shredding'.

Pros
Minorly Enhanced Strength and Endurance - Major
Durable Flesh - Minor
Pain Immunity/Clawed Hands - Major

Cons
Reduced Area Value (Limb->Extremities) - Major
Exhausting - Major
Minor Reduced Dexterity - Minor
Admin




Posts

: 107


Join date

: 2016-06-25



In all honesty, this causes him to stray a bit far from what I originally intended. That combined with the fact that I knew he was gonna be a stretch anyways, I think I'd rather cut my losses with him than try to patch him up. I made him mostly because I like to test the limits of any system I'm a part of (see Sinew and the twins), so I'm fine with Terry going into the rejected folder and me making someone new and less rule-breaking.



Posts

: 326


Join date

: 2016-07-20



Admin




Posts

: 107


Join date

: 2016-06-25




Similar topics
---
Permissions in this forum:
You
cannot
reply to topics in this forum