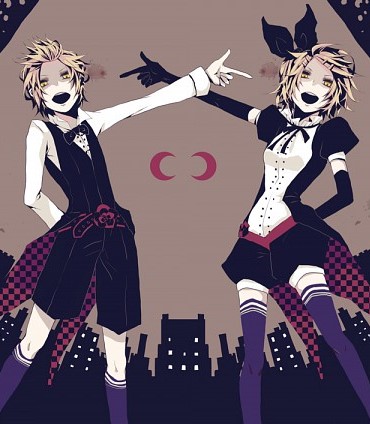 General Information
Name:
Yin and Yang Equilan
Alias:
The Twins
Age:
17 years old
Gender/Sex:
Female (Yin) and Male (Yang)
Sexuality:
Bisexual for both
Height:
5'4''/1.625m for both
Weight:
110lb/49.8kg for Yin, 125lb/56.7kg for Yang
Behavioral Information
Alignment:
Neutral;Neutral/Chaotic;Neutral
Personality:
Yin and Yang are always next to each other, usually holding hands, and they seem very odd to most people, partially due to their odd speech patterns and the fact they seem almost exactly like the same person, simply split into two bodies. The two rarely directly address the person they are talking to, more often speaking to each other and leaving questions for whoever they're talking to hang in the air. Each thinks the world of their sibling, and so frequently compliment each other, using terms like "Brother dearest" or "Sweet sister". Outside of their relationship with each other, the two amuse themselves by creeping people out with their mannerisms and, when possible, waving compromising information in the faces of those they have it on with no intention of exposing them. They have very little sympathy or empathy for anyone outside of themselves, and frequently change who they side with if their current group of friends stops "amusing" them.
Likes:
Their sibling, dancing, anything that they find amusing
Dislikes:
Boring people, rude people, cheese
Background
Yin and Yang have been best friends since birth. Born to a family with above-average wealth, the two never struggled with hardship or strife, and were often given any toys they asked for. This, however, resulted in the two being spoiled, and often they grew bored of whatever material possessions they were given, so they took to manipulating other people to amuse themselves. Their parents saw this less as a character flaw, and more of an opportunity, so they introduced their kids to theater, where they had incredible success, mainly due to the chemistry the two had on stage. Still, they found it more amusing to put their fellow actors in uncomfortable situations than the actual performance. Today, the two attend Alabaster High School, where the two are in the top ten percent of their class, and frequently use this fact to act superior in the faces of their peers.
Superhuman Information
Power Holder?:
Yes
Equilibrium:
The twins' minds have a connection, allowing them to read each other's thoughts, but also causes them to feel one another's pain (if one sprains their ankle, the other will walk with a limp as well due to the pain). Their actual "power" comes in the form of launching golf-ball sized balls of energy (Yin fires white, Yang fires black) that cause a 1-meter wide explosion capable of destroying leather and causing burns on impact. The two must be making physical contact to use this power.
Last edited by Equilibrium on Thu Aug 18, 2016 10:49 pm; edited 1 time in total



Posts

: 41


Join date

: 2016-08-17



Interesting. Twins. I'll allow it. Only a couple things.

No need to state degrees of burns, temperatures or anything like that. Just state it's capable of causing burns and destroying leather. Also state the explosions are 1 meter in diameter, since blast radius matters a lot with powers, and 'mild' isn't defined either visually or mathematically.

Also, I wish for you to know that the two of them don't get power benefits from being older than 14/15 at the start. If you're okay with this, then it's no biggie.
Admin




Posts

: 86


Join date

: 2016-06-25



Updated the explosion size and removed the degree of burns. And I'm totally fine with their powers not being advanced due to age. Also, not sure if this will have any impact, I'd rather them be put into the "hero" folder as I plan on them falling on that side of the divide more often despite being bullies. They more bully the people who are bullying anyways.



Posts

: 41


Join date

: 2016-08-17



Alright. Looking good in that case.
APPROVED
Admin




Posts

: 86


Join date

: 2016-06-25




Similar topics
---
Permissions in this forum:
You
cannot
reply to topics in this forum